Employee Spotlight: Sammi Ginsberg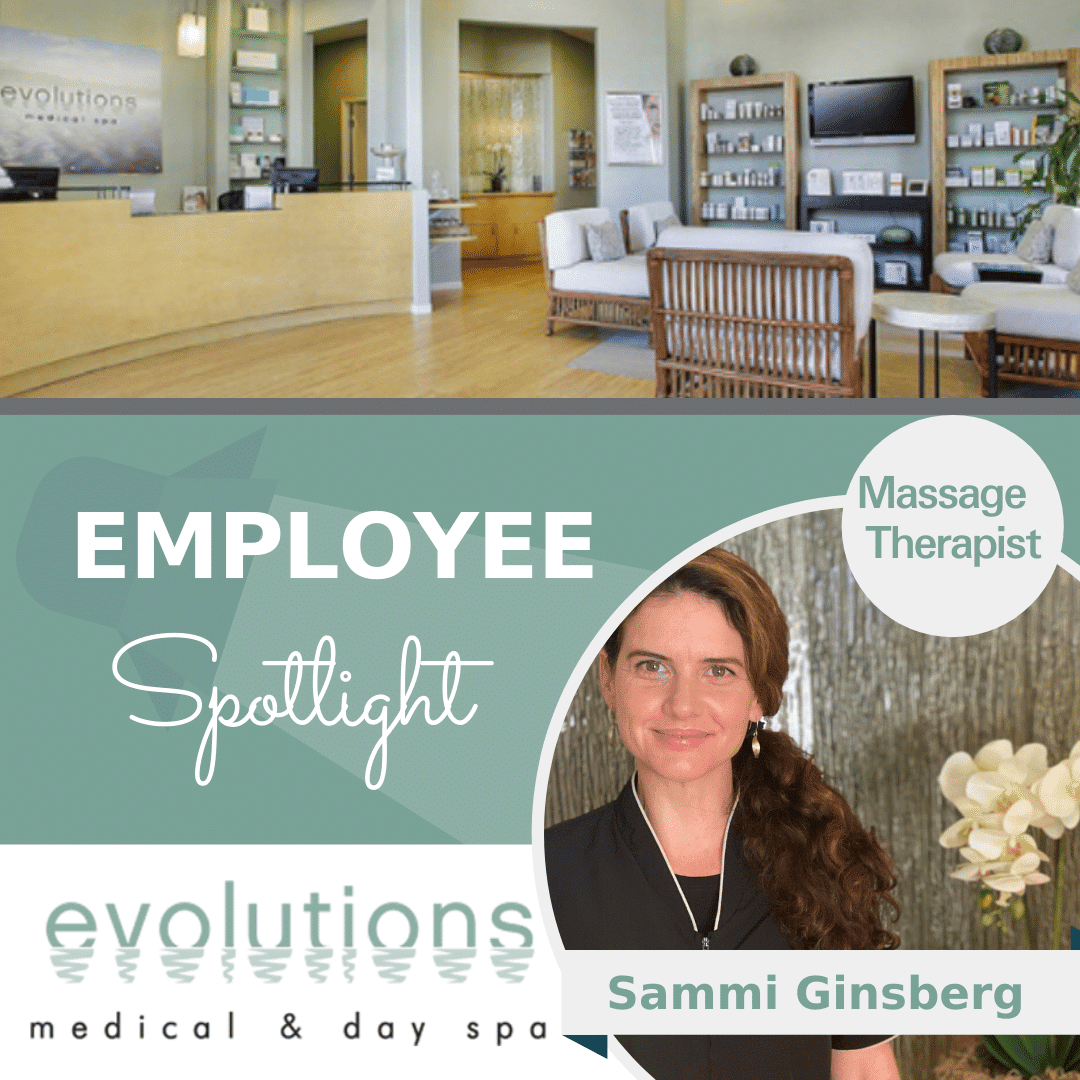 What really makes Evolutions special is our wonderful staff.  When we started Evolutions Medical Spa back in 2005 we had 5 employees.  We are now up to over 30!  They are all great people and they work very hard everyday to make your experience with Evolutions the best it can be.  We do this feature to let you know a little bit more about the people that make up the Evolutions' team.  We highlight two employees each month. This month we are putting the spotlight on a full time Spa Coordinator, Alexis Uribe, and Sammi Ginsberg, one of our massage therapists.  
Also, if you love Alexis and Sammi as much as we do and would like to share your feedback with everyone, we'd love to see your review on Yelp or Google.
Employee Profile – Sammi Ginsberg
Sammi has been working with Evolutions for about a year and a half, but she has been a licensed massage therapist for 19 years!  She has over 2000 hours of clinical training and is proficient in a wide array of massage techniques. Sammi consistently receives excellent feedback from her clients and she has quickly developed a loyal following at Evolutions.  In addition to massage talents, Sammi is a licensed yoga instructor.  
  What is the most unusual or interesting job you've ever had (prior to Evolutions)?
I found working at the Farmers' Market very interesting. Specifically, the origin, medicinal properties, and historical importance of the wide range of produce.
  What do you like about working at Evolutions?
Next to nature and some architecture,  spas are the most beautiful places on earth. It is my privilege to get to work in one of this caliber.
  What is your favorite treatment to perform?  Why?
I like to tailor my treatments to what is presenting for each client each time they come. I find it a creative and useful approach. 
  What is your preferred treatment at Evolutions to have done?
When I need refreshing I check in for a body scrub with Vichy Shower, followed by a long massage and I'm ready to rock!
  What is your #1 home care product sold at Evolutions?  Why? 
Tizo lip sunblock is with me always . It protects my lips from the wind and sun without making me look ridiculous
  What is your favorite quote / mantra / words of wisdom? 
Old favorite: Practice the vacation principle — Regard your life as an extended working vacation.. be a tourist in your own town and in your own life. – Victoria Moran
New favorite: Your pain is breaking the shell that encloses your understanding. Even as the stone of the fruit must break, that it's heart may stand in the sun, so must you know pain. – Khalil Gibron
Something I say: give from your extra and not your essence. It means stop and regroup before you tap out. 
  What do you like to do in your free time?  
Something that feeds my mind body or spirit.
If you love Sammi as much as we do, let her know by sharing a testimonial. We'll read your review to all of our employees at our next staff meeting.