Welcome to the largest combined Medical & Day Spa in Santa Barbara
EVOLUTIONS MEDICAL & DAY SPA – a relaxing getaway from life's stress. Whether you are looking for state-of-art medical treatments or a relaxing getaway from life's stresses, we have everything you need in our award-winning 6,000 square foot facility.
View Spa Tour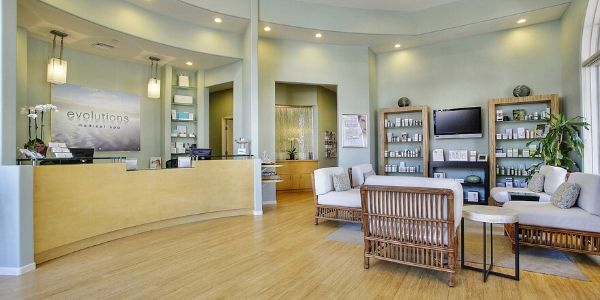 Spa Services
Evolutions is an award-winning medical and day spa in Santa Barbara, California.
Specials, Promotions and Gift Certificates
Winner of Independent's "Best of Santa Barbara" award 14 years in a row.
Meet our Staff
All of our staff members were carefully selected for their caring nature and high level of professionalism. We focus on delivering the best results possible with exceptional customer service.
Evolutions Day Spa is AMAZING! It's such a beautiful and relaxing place to spend time. I would highly recommend it to anyone who needs a time to relax and unwind. The staff is very friendly and before or after an appointment you are welcome to use their Sauna which is a nice treat!

I can certainly see why they've been voted the best for nine years straight. Dr. Perkins has over 30 years experience in making people look their very best using the latest in cosmetic surgery. And he has handpicked his Evolutions staff to make sure each and every client is pampered to the utmost. I cannot imagine one single thing I would change.

There is a receptionist there who is fantastic! She will answer any questions you might have in regards to the services there or, and (I find this helpful) skin care products that will fit my needs. She has been cheery each and every time that I have been there. I highly recommend checking Evolutions out!
Monthly Spa Events
Our monthly educational events provide both great information and exclusive discounts for attendees. Join us at our next event.
Add to Calendar
SCHEDULE YOUR APPOINTMENT
Use the form below to send us a note with your full name and desired treatment. We'll get in touch to confirm your appointment.
I've been a client of Evolutions Medical & Day Spa for over 6 years. I've had nothing but the best,... read moreI've been a client of Evolutions Medical & Day Spa for over 6 years. I've had nothing but the best, natural results from Dr. Perkins. I highly recommend their quality of service, professionalism, atmosphere, and knowledge of current and upcoming treatments. I love their events they have and always have great raffle items and good discounts. read less
This is my favorite medical spa. When I visit Santa Barbara this is my go to for things relaxing.... read moreThis is my favorite medical spa. When I visit Santa Barbara this is my go to for things relaxing. Even if I go in for my medical spa touch up, I try to enjoy the full body scrub. I love this scrub! I always leave feeling better and a bit more confident. read less
A very luxurious spa! Very relaxing, and I love the fluffy robes. Sammy was wonderful, and really worked the tension... read moreA very luxurious spa! Very relaxing, and I love the fluffy robes. Sammy was wonderful, and really worked the tension out of my neck without being too rough. I loved it!

Pricey, so it can't be a regular thing for me, but a perfect birthday/Christmas/Mother's Day gift for someone in your life (or yourself!)! Very pleased with my experience. read less