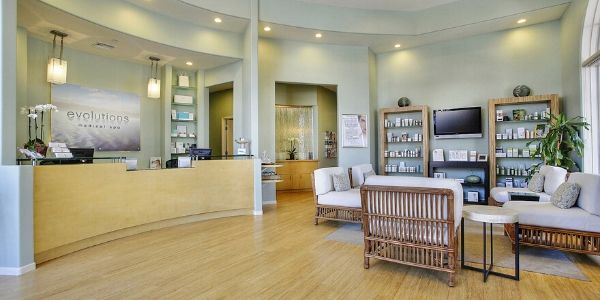 Evolutions Medical Spa, an award-winning medical spa opened in 2005, expanded its operations in early 2013 to include a full luxury day spa.
A perfect compliment to our state-of-the-art medical treatments, Evolutions Day Spa provides a serene atmosphere with full shower and locker facilities, dry saunas, and a peaceful tea lounge area to enjoy with your treatment. The softwood tones of our custom built wood massage huts along with the gentle soothing sounds of a waterfall relax your mind and soothe your soul.
Eastern Philosophy and Western Technology meet in our custom tailored spa menu supplying our clientele with a wide array of choices. Whether you receive a massage, facial, waxing, or body treatment, you will always be treated with the utmost comfort and quality. We are dedicated to pampering your mind and body while providing you with the tools to create balance and harmony in your everyday life.