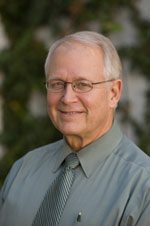 Dr. Terry J. Perkins, M.D, a nationally-respected specialist in facial cosmetic surgery, skin rejuvenation, and body contouring, has been serving Santa Barbara and the Tri-Counties for over 30 years.
At Evolutions Medical & Day Spa, he and his clinical staff (all of whom he has personally and extensively trained) provide a number of non-invasive and minimally invasive options for skin rejuvenation, wrinkle reduction, acne treatment, and hair removal using the most advanced technology and protocols available anywhere.
Dr. Perkins is constantly searching for new ways to better serve his patients and has a long history of being on the leading edge of aesthetic technology. He was the first specialist in the Santa Barbara-Ventura area to offer the liposuction surgical procedure as well as the first to make use of fat injection techniques for correcting body contour deficiencies. Dr. Perkins is a nationally recognized expert in injectables such as Botox. In 1999 he was selected to be one of only 16 doctors in the United States to conduct a study leading to the FDA approval of Botox for cosmetic uses. In 2005, he was chosen to be one of the select doctors involved in the FDA review of Vela Smooth technology, a non-surgical, non-invasive and painless way to reduce fat and cellulite.
Dr. Perkins grew up in Santa Barbara before attending UCLA and graduating from the University of Colorado School of Medicine. He is Board Certified by the American Board of Cosmetic Surgery and the American Board of Otolaryngology, Head and Neck Surgery. He is a member of the American Academy of Facial Plastic and Reconstructive Surgery, the American Academy of Cosmetic Surgery, the American Society of Liposuction Surgery, the California Medical Association, and the Santa Barbara County Medical Society. Dr. Perkins is past president of several local specialized medical societies, has served on the national public relations committee of the American Academy of Cosmetic Surgery, and has taught in the medical preceptor program with the University of California. He has won the title "Best Cosmetic Surgeon" in the Santa Barbara News-Press Readers' Choice poll multiple times.
His proven history of excellence in patient care, research, and innovation has earned Dr. Perkins national recognition, the trust of the FDA, and made him one of the most well-respected cosmetic surgeons in the Tri-Counties.
Frequently Asked Questions about Evolutions