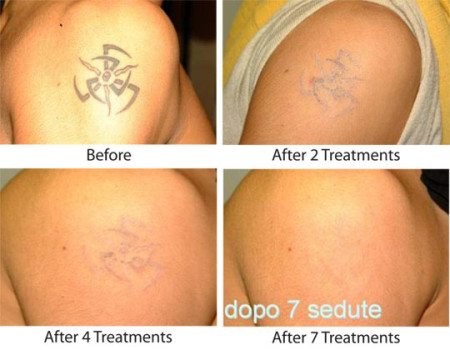 Tattoo Removal in Santa Barbara
Rethinking the ink? You are not alone. Whether it is because of the specific tattoo (no one wants that ex-girlfriend or boyfriend's name on them anymore!) or deciding that tattoos, in general, aren't for them, it is estimated that up to 50% of people who receive tattoos later regret them.
If you are in this group and would like your tattoo removed, we can help! Evolutions offer highly effective tattoo removal technology for a wide variety of tattoos right here in Santa Barbara. Our state-of-the-art Q-switched laser system includes three true lasers that can safely and effectively remove tattoos of almost any color (most systems only have two lasers).
Tattoo Removal at Evolutions is a safe and non-invasive procedure that uses very rapid bursts of laser energy to break down tattoo ink and allow the normal healing process of the body to remove the unwanted ink. Evolutions also use Describe PFD patches to increase the safety, effectiveness, and comfort of the treatment.
Tattoos are designed to be permanent, so depending on a number of factors, clearance can take between 4 and 15 treatments. Factors that influence the number of treatments necessary include skin type, tattoo color(s), location on the body, amount of ink, and presence of any scarring in the area. For a specific estimate on the number of treatments likely required, call us at 805-695-2197 to set up a complimentary consultation with one of our friendly and knowledgeable nurses.
The following section answers some of the frequently asked questions about Tattoo Removal. If you are interested in finding out more, please call us at 805-695-2197 to book a complimentary consultation. If you prefer, you may also fill out an online request form. One of our Spa Coordinators will then get in touch with you.