Evolutions Employee Spotlight: Jennifer Hamilton
What really makes Evolutions special is our wonderful employees. When we started Evolutions Medical Spa back in 2005 we had 5 employees. We are now up to 30! They are all great people and they work very hard everyday to make your experience with Evolutions the best it can be. We'll be highlighting two employees each month.
Meet Jennifer Hamilton, Spa Coordinator
Jennifer is a Spa Coordinator and was the second employee hired when the Perkins family decided to start Evolutions Medical Spa over 13 years ago! She "retired" a couple of years ago, but we are happy that she has decided to come back and work with us on Saturdays. She is an extremely caring and compassionate person and is almost universally loved by our clients.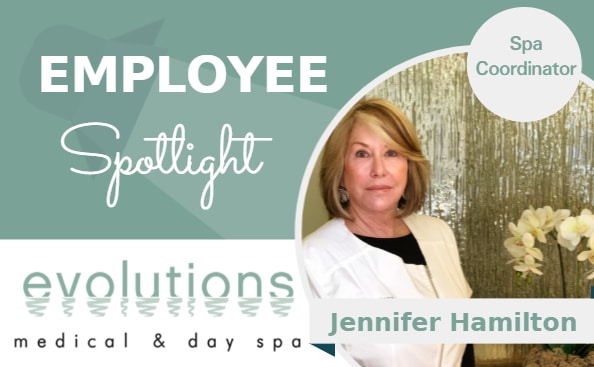 What is the most unusual or interesting job you've ever had (prior to Evolutions)?
I worked at Sansum Clinic as an EKG technician in the cardio department. Then later I worked in a private doctor's office as a medical assistant.
What do you like about working at Evolutions?
Evolutions is a beautiful medical and day spa and offers just about every service. The team at Evolutions is wonderful and very easy to work with. I'm happy to be on the team again.
What is your preferred treatment to have done at Evolutions?
A massage would be right up there! On the medical side I would say all injectables. You see results right away.
What is your #1 home care product that is sold at Evolutions? Why?
The Nia24 product line is my first choice. For me, my skin has improved so much using these products. I try a lot of products at Evolutions, but Nia24 is it!
What is your favorite quote / mantra / words of wisdom?
Have a great day with a smile! No matter how rough things can go in one's life, we need to count our blessings. Stay positive!
What is something people would be surprised to know about you?
When inspired, I enjoy painting. It's a relaxing therapy for me.
What do you like to do in your free time?
Working in my garden is my hobby. I do it when I can. Most of my free time is used being a caregiver for many members in my family.

If you love Jennifer as much as we do, let her know by sharing a testimonial on YELP or GOOGLE. We'll read your review to all of our employees at our next staff meeting.