Evolutions Employee Spotlight: Barbara Echols, Assistant Spa Director
What really makes Evolutions special is our wonderful employees. When we started Evolutions Medical Spa back in 2005 we had 5 employees. We are now up to 30! They are all great people and they work very hard everyday to make your experience with Evolutions the best it can be. Each month we are featuring two employees to let you know a little bit more about the people that make up the Evolutions team.
Meet Barbara Echols, Assistant Spa Director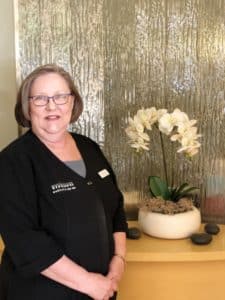 Barbara has been our Assistant Spa Director for 6 years now.  Among other duties, she is in charge of our membership program and performs daily financial audits.  She tries to "scatter joy" every day and wherever she goes (which includes cooking breakfast for the entire staff for our monthly staff meetings!).
What is the most unusual or interesting job you've ever had (prior to Evolutions)?
While living in Michigan in the late 70s, I had a brief job working at a nursery getting plants ready for the spring. It was the hardest, coldest (and shortest) job I EVER had!
What do you like about working at Evolutions?
The way the company is run by the owners.  They genuinely care about their employees and clients. I am proud to tell people that I work here.
What is your preferred treatment at Evolutions to have done?
Filler – the subtle techniques to make you look more rested, and not overdone, is what I like about how they do the treatment.   
What is your #1 home care product that is sold at Evolutions?  Why?
Even though it's not one product, I love the IntraCeuticals 3-Step Layering Set. The hyaluronic acid-based products keep my skin feeling dewy all day, and it is a very straightforward evening routine. For the results you get, it just doesn't get any easier than 1 – 2 – 3.
What is your favorite quote?
"There is no beautifier of complexion, or form, or behavior, like the wish to scatter joy and not pain around us."  – Ralph Waldo Emerson
What is something people would be surprised to know about you?
I graduated from high school and beauty college, and was working at a salon, before I turned 18.
What do you like to do in your free time?
Cooking, crossword puzzles and spending time with my husband, John, and our dog, Bella Joy.   

If you love Barbara as much as we do, let her know by sharing a testimonial on YELP or GOOGLE. We'll read your review to all of our employees at our next staff meeting.