Santa Barbara Day Spa Escape at Evolutions: Event Recap
On Wednesday evening at Evolutions Medical and Day Spa, we held an event to introduce our Day Spa services. Attendees were treated to complimentary mini-treatments of massage, facials, Vibraderm, Microdermabrasion, DermaSweep, and Glo Mineral make-up application. Our lead estheticians also spoke about our day spa services offered. Our recap follows:
MASSAGE THERAPY at Evolutions
At Evolutions, we have highly-trained massage therapists. Although massage is usually thought of as a pampering service, there are many therapeutic benefits of massage such as reducing stress, muscle tension, and pain. A massage can also help you feel and look better and sleep better. Massage may also be helpful in reducing headaches (or migraines), insomnia, digestive disorders, and anxiety. Studies have shown that receiving a massage on a consistent basis can boost the benefits you receive.
Evolutions offers a variety of massage services in 60, 75, or 90 minute sessions. View our Massage Menu on our website for additional information and pricing. 
FACIALS at Evolutions
Our facial menu is the true fusion of luxurious and clinical. All our facials are designed to lull you into a deep relaxation while giving you results that you would expect from a physician's office. We address many skin concerns, including:
Sun damage and dry or stressed skin (Corrective Facial, 60 minutes)
Acne and blemish-prone skin (Express Acne Facial, 45 minutes, or Acne Facial, 80 minutes)
Aging skin (Frozen In Time DNA Facial, 90 minutes, or Age-Defying Oxygen Facial, 90 minutes)
Sensitive skin (Organic Facial, 60 minutes)
View our Santa Barbara Facials Menu for detailed information and pricing.
BODY TREATMENTS (Wraps and Scrubs) and VICHY SHOWER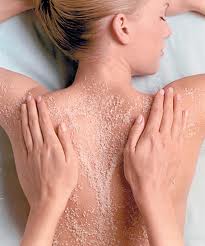 Treat your body to a full exfoliation and hydration. Our Body Wraps are designed to nourish the skin from head to toe. Add a Vichy Shower Treatment to either of our Body Wraps (Aloe Coconut or Naturally Nourishing) for a fully relaxing experience. The Vichy Shower Treatment – named for an area in France that is known for their therapeutic waters – is a horizontal shower with seven jets that stream warm water over your body while lying on a treatment bed. It is truly a unique experience and only available in Santa Barbara at Evolutions Day Spa. All of our Body Scrubs (Chocolate Dream, Salt Stone Glow, and Abyhanga Dosha) include a Vichy Shower.
View our Body Treatments Menu for more details and pricing.
EXFOLIATION TREATMENTS at Evolutions
We are now offering a wider variety of mechanical exfoliation treatments to encourage cell turnover for fresher, more youthful skin. These are stand-alone treatments or can be added to any facial.
DermaSweep MD is our most advanced physical exfoliation that is done with a patented treatment tip that allows the clinician to "sweep away" dead skin quickly and painlessly. The treatment is customized with an infusion to treat skin-specific concerns such as acne, dehydration, or hyperpigmentation.
DiamondTome Crystal Free Microdermabrasion removes the outer dead layer of skin to promote the growth of healthy new skin.
Vibradermabrasion uses abrasive paddles that vibrate at a rapid rate to stimulate collagen production and allow products a deeper level of penetration. The treatment is quick and pain-free.
To book an appointment for any day spa service, call Evolutions at 805-687-0212.