miraDry in Santa Barbara – Excessive Sweating Solution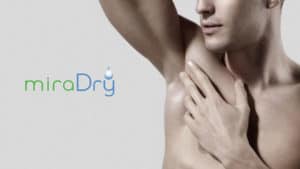 Underarm sweat and odor can be really embarrassing. Excessive sweating (known as hyperhidrosis) can affect men and women and, until recently, there was little that could be done to permanently stop it. Now there is miraDry – in Santa Barbara at Evolutions – that is an FDA-cleared treatment that eliminates sweat and odor glands in your underarm area. In one to two treatments, you can become dry and odor free permanently!
The miraDry treatment is gaining popularity across the nation. It was recently featured in a news segment in Raleigh, North Carolina. Dr. Cynthia Diehl and her staff explain a bit more about miraDry and show a treatment being done. To watch the video, click here.
Put a stop to your excessive sweating! Call us today at (805) 695-2189 to schedule a complimentary consultation for miraDry in Santa Barbara.