Employee Spotlight: Erika Aleman, RN, BSN, CANS
What really makes Evolutions special is our wonderful employees.  When we started Evolutions Medical Spa back in 2005 we had 5 employees. We are now up to 30! They are all great people and they work very hard everyday to make your experience with Evolutions the best it can be.  We are starting this feature to let you know a little bit more about the people that make up the Evolutions' team. This month we are highlighting one of our nurses, Erika Aleman, RN, BSN, CANS and our Lead Massage Therapist,  Kristen Aguilar.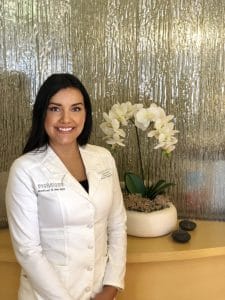 Employee Profile – Erika Aleman  
Erika has been working with Evolutions for over 2 years.  In October of 2018 she earned her Certified Aesthetic Nurse Specialist (CANS) certification, placing her among a select group of Registered Nurses nationally who have not only met the rigorous requirements for this designation, but also passed an extremely thorough exam on aesthetics. (Polly Dursum and Sue Manseau are also CANS certified).  In addition to being a skilled and compassionate nurse, Erika is fluent in Spanish.  We are lucky to have her as part of the Evolutions' team!
What is the most unusual or interesting job you've ever had (prior to Evolutions)?
I worked at an auto parts store during my college years.  I did everything from cashiering, to testing batteries and alternators, to ordering parts.  I can probably name more car parts than the average male!  
What do you like about working at Evolutions?
Prior to starting at Evolutions I was contemplating a career change.  I appreciate that the Perkins gave me the opportunity to train and work here because I know I found what I was meant to do.  I absolutely love what I do, my co-workers are amazing, and my clients are the best!
What is your favorite treatment to perform?  Why?
I don't have a "favorite" (OK maybe filler) but I love the challenges that come with all the treatments we perform.  There are options for treating a client's concerns and I like that we can customize out treatments to help them address their concerns so they look and feel their best.
What is your preferred treatment at Evolutions to have done?
Definitely a deep tissue massage from the day spa!  I also enjoy  collagen-stimulating treatments on the medical side such as Sculptra and Ultherapy because I prefer to age backwards.
What is your #1 home care product sold at Evolutions?  Why?
Do I really have to choose just one?  We have a beautiful selection of products and I use many of them.  My favorite line is NIA 24 because I have seen great results with their products.  Obagi Elastiderm eye cream is a must as is tretinoin.  I also have to mention the Luzern Hydra-Enzyme masque.  It's my special treat for my skin at least once per week.
What is your favorite quote / mantra / words of wisdom?
Be positive, be kind, and look for the good in others.
What is something people would be surprised to know about you?
I skipped the 7th grade.  I attended a private school where you worked at your own pace.  Apparently I worked quickly.
What do you like to do in your free time?
I enjoy spending time with my husband and four kids.  They are my world!  I also enjoying shopping (a little too much) and exercising (riding my beach cruiser, yoga, and interval training).

If you love Erika as much as we do, let her know by sharing a testimonial on YELP or GOOGLE. We'll read your review to all of our employees at our next staff meeting.